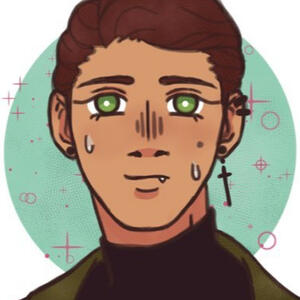 Reyes Reigns
---
YouTuber and Game Developer
Work
Focused on YouTube while being an active member of the No Motivation Club.
Want early access to videos? Exclusive access to behind-the-scenes game development and art progress? Become a patron on Patreon!
---
Let's Plays From Reyes That They Enjoy
Art
Reyes Selling
Haikyuu!! 489 Tobio Kageyama Nendoroid Figure. Official Nendoroid from GoodSmile Company.
Price: $120 USD (free shipping)

Condition: Opened. Used.

Notes: Pre-Order Rubber Strap not included. The top circular tape has been removed but the bottom one is still on. Box slightly damaged. Peg to put Volleyball pole into the base is broken off, the broken piece is still stuck in base.

Payment Method: PayPal Only. USD Only.

Contact: Twitter DM. Please allow 24-48 hours to be messaged back.
Here are the damages to the box, the missing peg from the Volleyball pole, and proof of bottom circular tape.
Ships to US Only.

Item ships the next Saturday after payment is confirmed.

You will be provided with an online tracking number. This number will be sent to you after the item has been shipped.

Please allow 24-48 hours for the tracking to be updated
If you are interested in buying please send me a Twitter DM.
I only accept payment through PayPal.
You have thirty (30) days from the date you receive the item to contact me if you want to return it for any reason.

You can get a refund as long as you are able to return the item in the same condition it was sent to you.

Shipping charges will not be refunded.

The item might not appear as it does in photos when you receive it.